Harry Reid "Hot" for Kirsten Gillibrand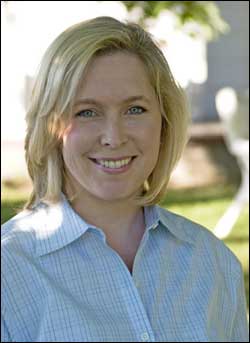 By Ralph Kolbe
21 Sep 2010
www.BeatReid.com
Democratic Senate Majority Leader Harry Reid caused a few faces to turn red when he referred to one of his fellow senators as "hot."  The setting was a New York City fundraiser hosted by Michael Bloomberg.  The subject of Harry Reid's comment was 43 year-old  New York Senator Kirsten Gillibrand, Dem-NY.
The fundraiser took place at Bloomberg's townhouse.  After he and Senator Chuck Schumer had their respective turns speaking, it was Harry Reid's turn.  Reid delivered a few words of praise about Schumer, and then turning to face Gillibrand,  said that "many senators are known for many things," and that "we in the Senate refer to Sen. Gillibrand as the hottest member."
The truth is Harry Reid's comment was a reference to a recent piece in The Hill.  Apparently he's not the only one in Washington who's admired Kirsten Gillibrand for more than her political acumen.  The Hill just recently named their 2010's 50 most beautiful people on Capital Hill, and Gillibrand made the list as number 3.
Matt Cantor, a spokesman for Senator Gillibrand responded to Harry Reid's comments this way: "The Leader was saying nice things about the work Senator Gillibrand and Senator Reid have done together over the last year and half, and made a joke referencing to the Hill article from earlier this year, Senator Gillibrand has the utmost respect for Senator Reid and looks forward to continue working together to repeal [Don't Ask Don't Tell], pass 9/11 health, and create good-paying jobs across the country."
The Kirsten Gillibrand comment is in no way the most uncomfortable thing that's come out of Harry Reid's mouth.  In 2008, the Senate Majority Leader fell under pretty heavy criticism for his comments about then presidential candidate Barack Obama.  According to Reid, one reason Obama was able to win votes from numerous ethnicities, including whites in large part, is due to his being "a light-skinned African American with no negro dialect."
According to CNN, one unnamed Democratic big-shot said in an email "…got to love Harry – always one quote away from blowing himself up… and I say that with complete affection."
Harry Reid made an unfortunate error in judgment, and without doubt should have reserved his comment on the dishy Gillibrand for a more private conversation.  One wonders whether Harry Reid is really in touch with where he is and what is happening around him.  Political Correctness watchdogs are having a field day, calling Reid's comments "sexist" and accusing him of objectifying women who have worked extremely hard to get into positions in national government.