Wind Farm Proposed for Searchlight
By Mike Thonmpson
BeatReid.com
Sunday, June 21, 2009
Harvesting the Wind Near Searchlight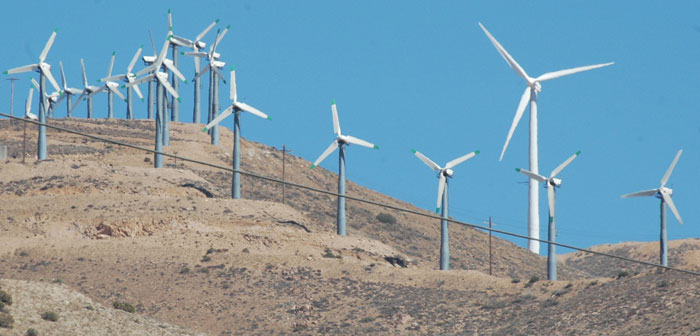 A new wind farm has been proposed for the vast area of public land just outside of Searchlight, Nevada. Wind farms, like those already existing in Palm Springs CA consist of literally hundreds of giant turbines that convert wind into electricity. Wind farms have obvious benefits; there're "green", they don't pollute and they use a free, natural resource that's one hundred percent renewable. The proposed plant would have the capacity to generate 370 megawatts of power from 160 turbines. But not all residents of Searchlight are pleased with the idea.
There are some negative aspects to consider as well. Firstly, the turbines are massive. They stand over 400 feet with the blades extended upward and pose a serious hazard to birds and bats. In Jan. of this year an environmental impact meeting was held by the Bureau of Land Management. It was attended by about 60 residents of Searchlight and elsewhere along with Searchlight Wind Energy, LLC and Duke Energy, the company that wants to build the wind farm. The meeting would provide the opportunity for the residents to learn about the wind farm project and bring up any pertinent issues (such as concerns over the lethality the turbine's blades to birds.)
The managing director of Duke Energy, Robert Charlebois, made the case for building the wind farm outside Searchlight. Firstly, twenty such locations were considered, and Searchlight is simply the windiest. The company would do it due diligence in determining which roads could handle the big trucks and construction vehicles. If any roads were damaged in the construction, Duke Energy would replace them. Regarding environmental impact, Charlebois said some of the country's best biologists are studying the area to see if the wind project would endanger the area's blackhawks and bats.
Some of the Issues
Robert Shawn, a member of Searchlight's Town Advisory Board, said the initial map had turbines closer to town, bordering some yards. When people complained, planners moved them in the design.
"We didn't like the idea of having these things right in our backyard," he said.
Shawn also stated he was worried the wind farm could deflect radio systems designated for public safety and confuse military radar.
Taylor Emanuel, a Henderson resident and director of Searchlight's airport, had concerns about the turbines affecting airport operations. He stated that the FAA requires that any structure taller than 200 feet be located at least 31/2 miles from runways. The Duke Energy turbines have been placed only 11/2 miles away. Duke Energy had apparently been working with the FAA on the issue, but at the time no further information was available.
"Bighorn", a blogger responding to the Las Vegas Sun article had this to say:
We went to the meeting in Searchlight. … NOBODY stood up and supported the project. …One woman even said that she moved there to get away from the ugly wind farm mess in Palm Springs. … both speakers actually said wind turbines RAISE property values! This was met with loud, sarcastic laughter from the audience. … I asked him if there was an official number of bird deaths that would be considered too high to proceed with this project. He looked very confused and after a couple seconds the BLM contractor cut in and simply said, "no". … The project is just a give away to a big company. The taxes will be taken by the county and the Federal Government. . … No jobs will be created for locals except cheap construction jobs, but it was pointed out that construction for the Boulder City Sempra Solar Facility was contracted out to people from another counrty-Nicaragua. All in all, this is a lose/lose project for the citizens and the wildlife.
Blogger "LasVegas" had a different opinion:
You would think people in searchlight would be welcoming jobs in the area. People will have to build the things and then maintain them. They will need security and engineers to monitor the electricity. Those people that work out at the plant will need to eat lunch buy gas and spend money in the area stores. Hotels will rent rooms to workers and on and on. As far as birds the turbines don't kill all the birds just the ones that try and fly threw the spinning blades. If the objections in this article are the only ones then people need to let this thing pass and be happy that it does.
Environmental Impact
According to an article written in bioscience.org, energy derived from wind farms has risen from about 10 megawatts in 1981 to over 18,000 megawatts in 2008. Some predict it will reach 200,000 by 2020, amounting to around 7 percent of all electricity in the United States. But hints that the wind farms could be harmful to wildlife surfaced in the 1980s. Dead birds were found near the Altamont Pass Wind Area, the oldest wind farm in the U.S., located about 50 miles east of San Francisco. It is estimated that about 10,000 birds are killed at the site each year, including American eagles, golden kestrels, red-tailed hawks and burrowing owls.
Most of the bird deaths occur at Altamont, Tehachapi and San Georgino (just west of Palm Springs). The turbine blades appear to move slowly, however people fail to consider their monstrous size. At the tips, they can reach speeds of 180 MPH, too fast for birds and bats to avoid. The turbine blades on some of the newer wind farms are actually larger and reach higher in the sky. This has the benefit of allowing them to rotate more slowly and allows raptors to fly under them. But, other migrating species could be impacted by the larger blades.
If wind energy grows to 20 percent of generated electricity over the next two decades the number of bird deaths could rise to 3 million each year.
But, by comparison, about 50 million birds are killed each year in collisions with communications towers, 80 million are killed by cars and 3.5 million strike windows.
Also, there are concerns over the audible effects of the giant turbines. The minimum setback for human residents is 1000 feet. But they are still audible even at that range, and at night can be heard a half mile away. This concern has been voiced regarding proposed wind farms around the country. From the blog of Acoustic Ecology http://aeinews.org/archives/category/wind-turbines:
"Wildlife impacts of wind farms are sure to include increased ambient background noise over a fairly large area (half mile to a mile in diameter), which can make it more difficult for predators such as owls and coyotes to find their small prey, and likewise force prey animals to be more vigilant against attack"
Vertical-Axis Turbines
Palm Springs will be the first testing ground of Wind Harvest International's new vertical-axis wind turbine. The new design utilizes a steel frame, only 50 feet in height, that spins around a vertical axis and is far more bird friendly. In fact, the vertical machines are easier to maintain and less expensive to install as well. And even if the new design hasn't yet been proven to be bird-safe, an actual bird's nest was apparently found beneath one. According to WHI company president George Wagner the nest wasn't from a raptor, but another species common for the California area.The company has been developing the turbines for 30-plus years. It is now ready to produce two models and is raising funds toward that goal. A turbine system the lies so close to the ground would have less of a visual impact as well. Perhaps this would offer a solution in Searchlight, where residents are unhappy about the possibility of conventional turbines marring their view of the natural surroundings.
Harry Reid: Searchlight's Most Prominent Resident
Searchlight, Nevada resident and Democratic Senate Majority Leader Harry Reid has publicly committed to renewable energy sources.  The Nevada State Legislature has mandated that 15 percent of power generated in the state come from renewable resources by 2013.
"The country needs to diversify its energy resources to become less dependent on foreign oil", Reid said.  "On a national level we need to make sure on a certain day, a certain percentage of all energy produced in the United States comes from renewable resources.   That'll be part of what we'll be working on this year."
Back in April of this year Harry Reid commissioned a small wind mill in southern Nevada.  The turbine will be used as a training facility for International Brotherhood of Electrical Workers Local 357 and the Joint Apprenticeship and Training Committee of Southern Nevada.  Harry Reid was present to "flick the switch", turning the unit on and had a few remarks about the purpose of the new wind mill.
"Someone wants to have a solar panel put on the roof of their home or a wind turbine in their backyard or some business wants to do it on a larger scale, they need to go where people know how to use the technology," he said. "Anytime you see something like this, it means jobs."
And, possibly, a grip of federal stimulus dollars.  The federal economic recovery plan provides $78.6 billion in clean energy, energy efficiency, environmental and green transportation funding.  Nevada could benefit from a share of this money for the creation of "green" jobs.  Energy related tax incentives could also be available for residents of the state.
It seems, however, that Harry Reid, might be the only Searchlight resident to be supporting the proposed wind farm, despite its potential impact on property values, surrounding views and air-born and land animals.  Either he has a deeper and more comprehensive understanding of the issues of foreign oil dependence, renewable energy and job creation or he's simply out of touch with the wishes of local Nevadans.  The Beat Reid movement will be keeping close tabs on this issue.
Sources
http://ecotality.com/life/2008/01/25/vertical-axis-wind-turbines-to-hit-palm-springs-this-summer/
http://www.lasvegassun.com/news/2009/jan/28/proposed-wind-farm-near-searchlight-worries-some-r/
http://cleantech.com/news/2341/wind-power-harvesting-under-tall-turbines-palm-springs